Updated to DHEC Guidelines for COVID-19.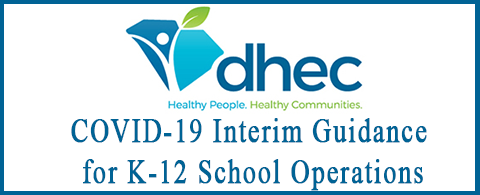 ---
See the attached Document for updates to the DHEC Guidelines for COVID-19 below.
Please note the changes in quarantine and isolations timelines,
and note the new attestation page (see page 27) which MUST
accompany a picture of at-home test result. We will accept
at-home tests according to the DHEC guidelines.
If a nurse sends a student or staff member home who is symptomatic,
we will not accept a negative at home test THAT DAY or the next.
The symptomatic individual can only test according to guidelines
(on/after day 4), and if circumstances are such the nurse is still
suspicious about symptoms, or there's a question of symptoms and
when they appeared, nurses can ask parents to seek testing by IHP.
Everyone, please understand, we will tread these murky waters
the best we can, and we will have to consider case-by-case circumstances
because everyone's is different. In short, we will do the best that we can with
what we have in every circumstance as some may be more complicated than others.